COSCO launches new lines to S America
By Zhong Nan | China Daily | Updated: 2022-08-19 09:32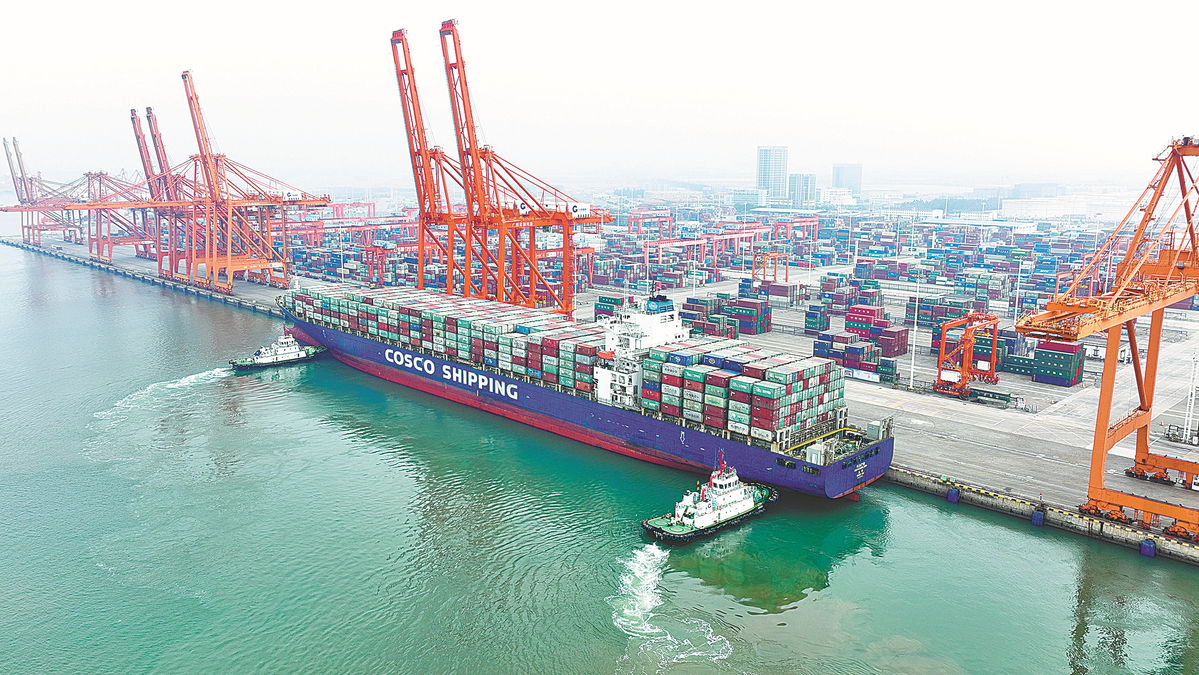 COSCO Shipping Specialized Carriers Co Ltd, the world's largest specialized shipping operator by fleet size, will add service routes from China to eastern regions of South America as well as Europe within this year to meet soaring transportation demand for large industrial goods and other oversized cargoes, said a senior executive on Thursday.
The State-owned company began to run a new shipping line from Taicang port, East China's Jiangsu province to Chile, South America on Thursday-a maritime route with severe capacity shortages under current market conditions.
With more than 1,000 commercial vehicles at its avail, new ports of call in South America are Valparaiso and Lirquen in Chile. Guangzhou-based CSSC said that monthly service will be available for its customers. It will add shifts based on market demand for these shipping routes in the coming months, said Cai Liancai, CSSC's vice-president.
Due to the rapid growth of China's auto industry and ongoing COVID-19 disruptions, market capacity for shipping vehicles currently is far from meeting the needs of the country's auto exporters. CSSC therefore adopted one of its 62,000-dead weight ton pulp carriers to ship vehicles to South America using its self-innovated foldable frames inside the ship body, after gaining certification from classification authorities.
Boosted by surging global demand, China's automakers exported 1.51 million vehicles in the first seven months, revving up 50.6 percent year-on-year, said the Beijing-based China Association of Automobile Manufacturers.
"Because this pulp carrier has a box type cargo hold, it is fairly suitable for installing foldable frames to set up and transport vehicles," Cai said, adding that the ships will carry mainly pulp on their return voyages. This will meet demand for raw materials by domestic paper mills and offer effective services for the export of Chinese-made vehicles.
In addition to having five pulp carriers under construction within China, CSSC-a subsidiary of Shanghai-based China COSCO Shipping Corp Ltd, the country's largest shipping company by sales revenue-currently operates 15 pulp carriers and plans to build even larger vessels of this kind to support business growth.
"Since those foldable frames can be stacked and loaded in ships' cargo holds, any ship with a cargo hold can utilize the special frames. They work for a wide range of ship types and have considerable flexibility," he added.
Operating more than 100 vessels, including multipurpose and heavy lift vessels, semisubmersible ships and asphalt carriers around the world, CSSC is China's main transporter of oversized and overweight cargoes, such as oil rigs, engineering vessels, port machinery, locomotives, windmills, bridge cranes and other complete equipment.
The company also helped domestic firms export 467 construction and mining machinery goods via a specialized carrier to African countries including Kenya and South Africa last week, in a bid to resolve capacity issues of insufficient dedicated car and truck carriers on certain shipping routes between China and other countries that have occurred in recent months.
Zhang Jianping, head of the center for regional economic cooperation at the Chinese Academy of International Trade and Economic Cooperation, said the fast growth of China's exports to emerging economies in South America, Africa and Southeast Asia reflects the improving economic and trade ties between China and those countries, and the momentum is expected to continue.
Thanks to favorable free trade deals such as the Regional Comprehensive Economic Partnership and the China-Chile free trade agreement, removal of supply chain snarls in China and ramped-up production in many countries, China's demand for raw materials and intermediate goods from overseas markets will surge in the coming months, Zhang said.
---
Post time: Aug-20-2022