Chinese firms geared up for massive Canton Fair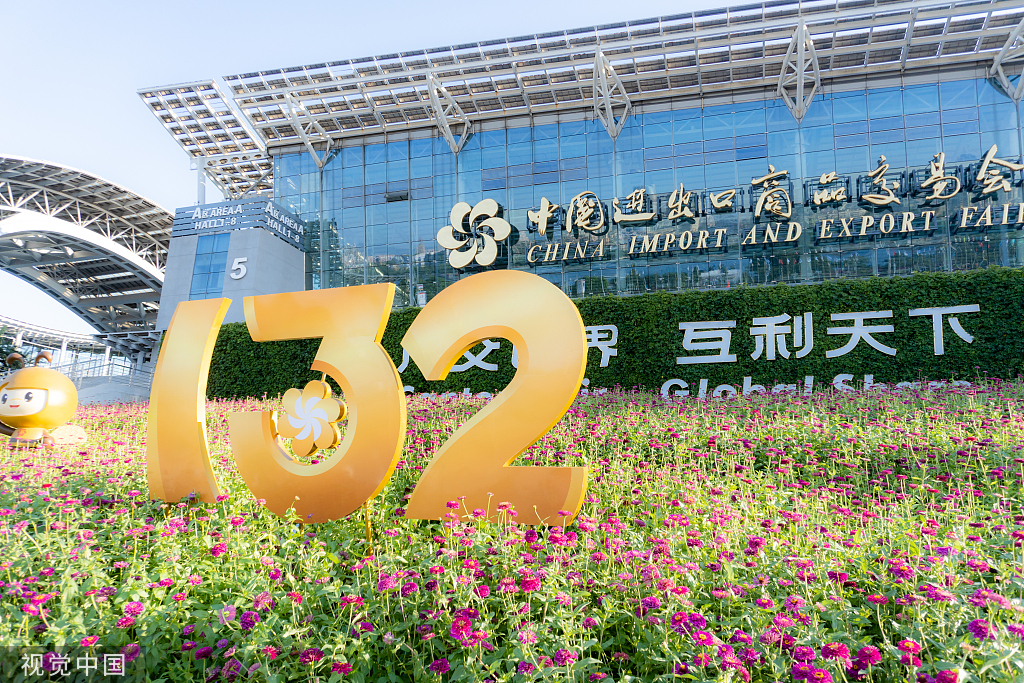 Organizers of the China Import and Export Fair, also known as the Canton Fair, have launched a supply and purchase matchmaking event for leading multinational enterprises in order to help Chinese export-oriented businesses better make deals with global buyers.
More than 200 high-quality Chinese exporters are participating in the matchmaking event, which kicked off online on Monday, attracting dozens of product categories including electronics and household appliances, hardware, tools and building materials.
Estimated purchase orders resulting from the event, which lasts seven days, are expected to be worth tens of millions of US dollars, according to the fair's organizers.
The fair, usually held twice a year in April and October in Guangzhou, capital of Guangdong province, kicked off its 132nd session online on Saturday, with more than 35,000 domestic and overseas companies participating in the event.
"Procurement demand from leading multinational enterprises is large and the categories are very rich, which is usually an important channel for Chinese exporters to obtain overseas orders during the fair," said Xu Bing, spokesman for the event.
Xu said the fair's organizers have selected qualified Chinese enterprises out of 500 applicants from 18 trading groups to participate in the one-week matchmaking event.
"A large number of our suppliers have met partners through the fair's previous sessions. We are looking forward to realizing more orders during the matchmaking event," said Pierre Petitdemange, chief financial officer of the Guangzhou sourcing center of French multinational retail group Auchan Retail, a regular buyer at the Canton Fair for more than 15 years.
For Indonesia's Kawan Lama Group, China has always been the main source of its imported goods, according to William Widjaja, purchasing director of the company.
"We are expecting more procurement orders during the fair," he said. The company purchased furniture products worth $1.2 million at the last session.
Usually seen as a barometer of China's foreign trade, the Canton Fair set up 50 sections for 16 categories online, with over 3.06 million exhibits already submitted by domestic and overseas participants.
Among the participants, there are 34,744 domestic companies, an increase of about 40 percent over the previous session, demonstrating their confidence in expanding overseas deals in the months ahead, according to organizers.
China's foreign trade surged more than 10 percent year-on-year to 27.3 trillion yuan ($3.79 trillion) during the first eight months, said the General Administration of Customs.
A large number of high-quality companies have displayed products online, with 130,000 featuring digitalized or smart capabilities and 500,000 being green, low carbon commodities, according to the organizers.
Chinese household electrical appliance maker Galanz, a regular participant at the Canton Fair, has displayed a series of high-tech household products during the online exhibition.
Managers of the company's overseas business department said products including air fryer ovens, microwaves, pressure cookers and dishwashers show that the company's low-carbon cooking technologies are creating sustainable kitchen lifestyles.
The company's microwave ovens, specially designed for use in space, have helped provide healthy food for Chinese astronauts in the core module of the Tiangong space station.
"We believe that overseas customers will prefer these products, which include unique space design elements, without smoke or open flames," said Devin Zhang, an overseas business manager with Galanz.
"We will also introduce digital production of microwaves using an automatic production base, washing machines automation workshop and our intelligent manufacturing base for dishwashers to global buyers," Zhang said.
Development of high value-added products in combination with real overseas market demand have contributed to Galanz's business growth, which realized a year-on-year increase in exports of 9.8 percent in the first half, the company said.
---
Post time: Oct-20-2022