Chinese elements appeal to young fitness enthusiasts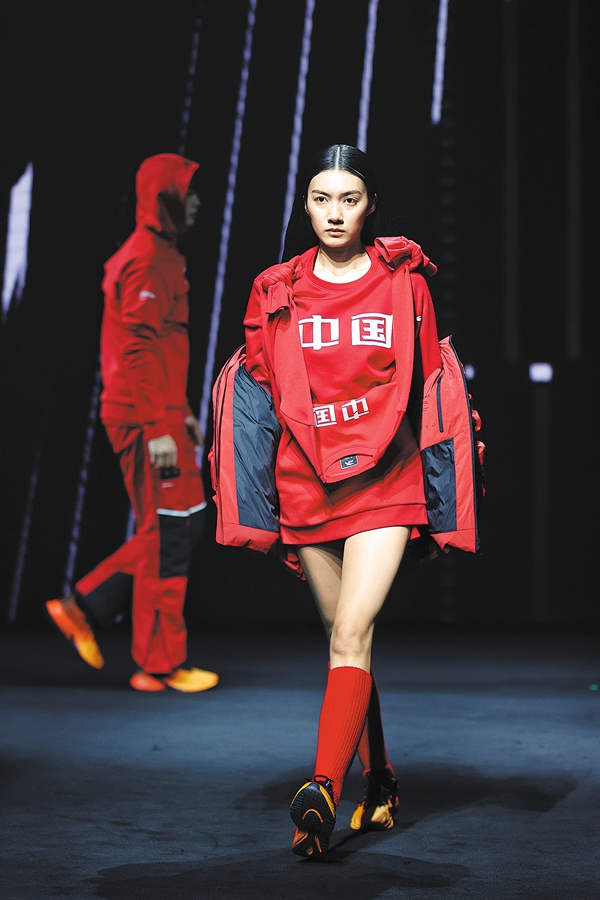 Consumers' increasing attachment to products or designs with distinctive Chinese features – a trend more extensively found among the younger generation -has facilitated the rise of Chinese brands despite global uncertainties and economic headwinds, said industry experts.
A report jointly released by news portal Xinhuanet and fashion brand exchange and trading platform Dewu in late June said Chinese consumers' interest in products and brands with distinctive Chinese cultural features surged five-fold during the 10 years between 2011 and 2021.
The trend has been especially noticeable among younger consumers. Dewu, which had 81 million monthly active users in May, said up to 87 percent of consumers buying products with strong Chinese features on their platform are those born in the 1990s or 2000s.
These younger consumers have shown special preferences for Chinese features like color palettes widely found in Mogao Grottoes in Dunhuang, Gansu province; brands associated with the Sanxingdui Ruins in Guanghan, Sichuan province; or batik produced by the Miao ethnic group, Dewu said.
Fiscal results reported by domestic sportswear brands Anta and Li-Ning during the first half may also provide a glimpse into rising Chinese brands.
Anta overtook international giants like Nike and Adidas for the first time to become the top-selling sports company in the Chinese mainland market in the first six months, with its half-year sales revenue approaching 26 billion yuan($3.8 billion).
Anta's eye-catching sales revenue can be partly attributed to international brands such as Descente and Fila that Anta has acquired over the past few years.
The 12.4 billion yuan turnover that Li-Ning made in the first six months is worth a closer look,according to industry experts.
On one hand, Li-Ning overtook Anta by recording a 17.6 percent net profit margin in the first half, while that of Anta came in at 13.8 percent.On the other hand, Li-Ning's strategy of playing up Chinese characteristics in its products and designs and its ambition to break the monopoly of Western brands in terms of fashion design seems to have begun to make a difference, as younger Chinese consumers are more inclined to products with strong Chinese cultural element, said Yi Fan, a senior analyst from market research firm MKT Index.
Di Junpeng, an analyst from Institute of Economics at Shanghai Academy of Social Sciences, said Chinese brands and products are carriers of Chinese values. As younger Chinese consumers show more recognition and confidence in traditional Chines culture, it is understandable to see the rise of Chinese brands, whose quality has also significantly improved over time, Di said.
The increasing inclination for products with distinctive Chinese cultural elements or colors has helped elevate overall recognition of Chinese brands, said Dewu experts.
A similar finding was reached by market consultancy Kantar Worldpanel. In the Chinese global brand builders 2022 list jointly released by Google in late July, the London-based market research firm said that the top Chinese 50 brands making the list this year have seen their overall brand influence up an average 6 percent year-on-year despite all the global uncertainties.
The function, design and profitability of these Chinese brands have taken the lead worldwide, helping them further increase global market share and promote brand value, said Kantar experts.
According to Jay Fang, senior partner at the Chengdu, Sichuan province, and Chongqing offices of KMPG in China, the booming digital economy in China and the new consumption models have nurtured a large number of domestic brands,which have won the hearts of younger consumers with quality, innovation and corporate social responsibilities fulfilled.
"Despite intense competition in the consumer sector, domestic brands with distinctive Chinese characteristics have leapfrogged.This is not only attributable to reasonable prices but also the personalized management especially catering to the tastes and preferences of the younger generation," Fang said.
As the KPMG analyst explained,technological innovation will be key to the upgrading of these domestic brands. Personalized and rapid delivery, as well as experience found nowhere else, are increasingly emphasized by younger consumers.
Domestic brands are recommended to invest more in technology and supply chains to secure the upper hand in the fiercely competitive Chinese consumer market.
---
Post time: Oct-07-2022